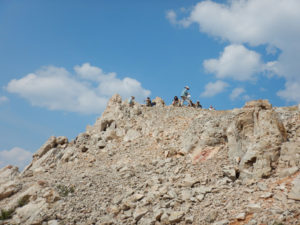 It's time for our yearly update talk on field work and data compilation for the Tertiary geology and paleontology of the central Gravelly Range project in southwestern Montana. The Madison Ranger District in Ennis, Montana (5 Forest Service Road) will be hosting my talk on Monday, April 2nd at 10am in the Madison Ranger District conference room. We have a project permit from the US Forest Service because our project area lies within the Madison Ranger District – and the USFS District people have been really helpful with our project logistics. Thus, this is the perfect way to let them know what we did this past field season and how the whole project is coming together. The Madison District just sent their public announcement for the talk:
Dr. Hanneman and Dr. Don Lofgren, PhD (Director, Raymond M. Alf Museum of Paleontology, Claremont, CA 91711) and their team have been executing a multiyear study in the Gravelly Range near Black Butte resulting in many interesting paleontological findings right here in our own back yard.  Please join Dr. Hanneman and the Madison Ranger District for an update on this project and what they hope to unearth this year!
It's a very intriguing project on high-elevation, mainly Eocene-Oligocene Tertiary geology and paleontology (mostly vertebrate and floral). So – anyone with an interest in this and who is in the geographic area, is welcome at the talk!