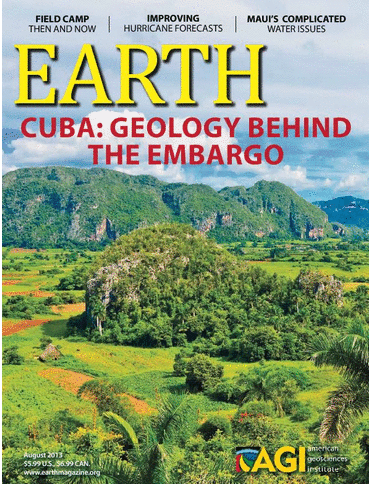 The Association for Women Geoscientists sponsored yet another of their remarkable geological field trips. This time it was a March 2013 trip to Cuba. I detail the trip in the August 2013 issue of Earth magazine (published by the American Geosciences Institute), in "Travels In Geology: Journeying Through Cuba's Geology And Culture". As I explained in the article's introduction:
It's not every day that you get the chance to go to Cuba, so when I found out that the Association for Women Geoscientists (AWG) was offering an organized trip there in March 2013, I jumped at the opportunity. The excursion — nearly two weeks of exploration of our southern neighbor's geology and culture — did not disappoint.
Cuba is truly an extraordinary place – both geologically and culturally – and as I said at the end of the article:
I look forward to returning and seeing even more of Cuba's geology.
As noted above in this post, AWG puts together some great geological field trips. The next one will be in September 2014, and it will be a geological field trip through the Canadian Rockies. More details on that will be uploaded to Geopostings as they become available.