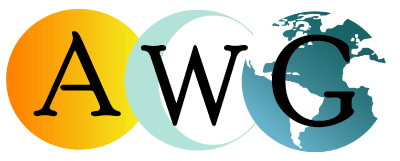 The Association for Women Geoscientists is gearing up for our annual institution and corporate membership drive. We believe that having these types of members makes our organization more diverse and as such, it strengthens our efforts in enhancing the quality and level of participation of women in geosciences. We encourage you to talk with your institutional departments and corporate representatives to urge them to become AWG members. Information about Institution/Corporate Membership costs and benefits is shown below and is also found on the AWG website at http://awg.org/membership. If you have questions regarding our membership drive, please contact Deb Hanneman, AWG President-Elect, at [email protected] or Mona Scott at [email protected] or via phone at 303.412.6219.
Institution Memberships $200/yr
Benefits:
Recognition of your membership at our professional meetings and in AWG's publications, to showcase your support of women geoscientists.
Electronic subscriptions to AWG's newsletters, Gaea (quarterly) and E-News (monthly).
Access to the Association's membership directory.
One free ad in E-News, and 10% off future ads in Gaea, E-News, and on our website on Job Web.
One free professional membership for one employee of your institution.
50% discounts to all students from your institution who apply for a student membership.
Corporate Memberships – Base level is $500/yr
Benefits:
Includes 5 individual memberships 
Recognition of your corporate membership at AWG's professional meetings and in AWG publications, to show case your support.
Corporate logo and active web link on the AWG home page.
An electronic subscription to Gaea, the Association's quarterly newsletter, the bi-weekly E-News, and any applicable chapter newsletters.
Free access to the Association's membership directory.
Advertising rates are 20% lower than standard rates.