Eocene-Oligocene Geology and Vertebrate Paleontology of the Northern
Jefferson Valley, Southwest Montana Field Trip Sponsored by the Montana Geological Society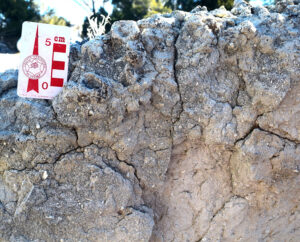 Field Trip Information:
Saturday July 8th, 2023
Trip Leaders: Deb Hanneman (Whitehall GeoGroup Inc., Whitehall, MT)
Don Lofgren (Raymond M. Alf Museum of Paleontology, Claremont, CA)
On this field trip we will visit:
– Late Eocene outcrops at Pipestone Springs, well known for vertebrate
fossils and recently identified paleosols, trace fossils, and tuff beds (Hanneman et
al, 2022 (https://www.app.pan.pl/article/item/app009012021.html)
– Other nearby Eocene-Oligocene outcrops (locally known as Little Pipestone, Easter Lily, Palisades)
– Side trip to Ringing Rocks if time permits (later Cretaceous igneous feature:
https://tinyurl.com/3mmuvawa)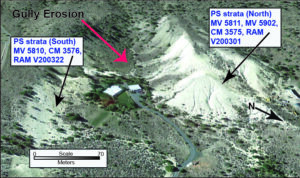 Overview of the Pipestone Springs area, southwest Montana. Pipestone Springs (PS) strata are exposed on both sides of a gully. Figure copied from Hanneman et al., 2022; see this article cited above for further details about the photo and the field trip area.
Important Field Trip Details
– Register for this field trip by latest July 5th, 2023 (see link below to register)
– On July 8th, we will meet at 80 Boe Lane in Pipestone (see also map below) at 10 am
– No high clearance vehicles needed on this trip, but we will be driving on gravel roads (i.e. leave
the Ferrari at home, bring your Rolls Royce instead)
– Pack: Lunch, Snacks, water
– Wear hiking boots and bring layers to be prepared for any weather (don't forget sun protection/hat)!
Cost
– Free for members and students
– $25 for non-members. (not a member? click here to join the MGS and come on the field trip
for free)
Field trip registration closes July 5th (RSVP to [email protected] to register)
Refunds are only available until July 5th
.
MGS members that are unable to attend may transfer their registration to another MGS member or
another MGS event. Should an MGS member wish to transfer their registration to a non-member, the
non-member would need to pay the balance between the member and non-member price.
Map of the meeting location in Pipestone, MT. We will meet at 80 Boe Lane, Whitehall, Montana 59759  at 10am on Saturday morning, 7/8/2023.