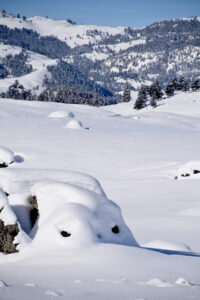 Being in Yellowstone National Park (YNP) in winter is always amazing. It's a good time to watch animal behavior – minus the confusion of the many human interactions that one normally runs into during the summer season! It's also a prime time to observe animal tracks in the snow and get insight into the movement and feeding habits of these animals using their snow trackways and feeding traces. And – because I'm a geologist that studies continental trace fossils, it makes watching mammals create snow traces extremely interesting.
I'll show examples of these winter traces taken mostly from my recent winter trip to YNP. And because YNP's bison are largely unique to the park's landscape, I'll concentrate on their snow traces.
The northeast part of YNP is open for vehicle travel during the winter. Some bison migrate outside of the park, presumably because there's less snow covering their food sources at these lower elevations. However, many bison stay in the park's northeastern area where snow piles up, so it's easy to see their trackways and feeding spots in the deeper snow cover.
Bison make deep trackways through snow and typically move in a single line, thus deepening their trackway. These "bison highways" are often used by other animals such as coyotes, fox, wolves, and pronghorn, all of which aren't readily adapted for movement through deep snow. The multiple-use bison trackways are also used by cross-country skiers when there's an absence of groomed trails. I've similarly seen the reverse situation where groomed cross-country ski trails are a bison's preferred route through the snow. Watch out for what look like post holes in your ski trail – they'll probably lead you right to a bison that's moving a bit more slowly along the same trail!
Bison feed on grasses and sedges and so they need to move the snow away to get to these foods. Bison use their heads very effectively to move snow aside so they can reach their feed. The head-plowing action is facilitated by the muscle mass in their shoulder hump, with an end result being a snow-packed bison face and a trench developed along their browse path. Over time, the trenches merge and a bison plowed hillside then looks like a hummocky jumble of snow.
In YNP – especially in the winter – bison are commonly fellow travelers on the human-plowed roads. The plowed roads are the best paths through deep snow and it's not unusual to spend time in one's vehicle watching the leisurely progress of bison walking in the road and over park bridges. Most park visitors have no reason to speed along the roadways, so it's a good time to sit back and observe bison behavior.
Many other YNP animals also leave snow traces, although these are usually not as entrenched as the bison traces if they occur separate from the bison trackways. But – at least in the snow it's possible to see what animal has passed over the park landscape. Consequently, this makes for good insight into what kind of animals frequent a particular area. All in all, winter in YNP is my favorite time to visit because of the many animal snow traces that occur throughout the park – and of course because of fewer humans making their own snow traces!