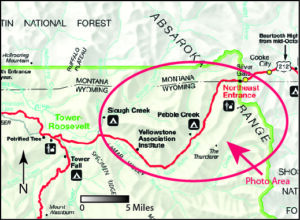 The historic Yellowstone flood of early June 2022 dramatically changed the fluvial geomorphology in the northern part of Yellowstone National Park (YNP). According to the National Weather Service Billings, Montana, the Beartooth and Absaroka mountain ranges in this part of YNP had from 0.8 inches to over 5 inches of rainfall from June 10th through June 13th. The rainfall combined with 2 to nearly 5 inches of snow melt equivalent produced a water event of at least 4 to 9 inches. This water event brought about unprecedented flooding rarely or never seen before across many area rivers and streams. Based upon stream gauge data from downstream on the Yellowstone River, outside of YNP, the U.S. Geological Survey deemed the June flood event as a "1 in 500-year" flood. YNP closed down immediately after the flood event. YNP reopened the South Loop of the park on Wednesday June 22 at 8 AM. This included the East (Cody), West (West Yellowstone) and South (Grand Teton) entrances. From August 3, 2022 to September 8, 2022, YNP visitors could drive YNP's road from Tower Junction to just east of Slough Creek only using a day pass. On October 15, the remaining part of the Slough Creek to Cooke City Road opened. The north entrance, however, is still only open to foot and bicycle traffic for one mile. The old Gardiner Road, between Gardiner and Mammoth Hot Springs, is now only open for commercial tours, but YNP officials project that it will open to the general public no later than November 1, 2022.
One of the best videos that I've seen of the June flood event is embedded below and gives an overall view of the flood waters coursing through the northern part of the park. This video was posted by YNP people in July of 2022:
I wanted to see the changes in the north-eastern YNP fluvial systems myself and so drove to YNP a few days after the opening of the Slough Creek-Cooke City road segment. These fluvial segments include Soda Butte Creek and the Lamar River (see Figure 1 map). The following photos show how this area looks as of 10/17/2022 (the photo area is shown located within the ellipse of Figure 1 above).